With Chouquette's New Farm bakery already the obvious choice for Brisbanites with a hankering for traditional French baked goods, the opening of a second outlet right in the heart of the CBD is music to pastry lovers' ears.
Chouquette is an authentic French bakery and patisserie specialising in pastries, cakes, artisan breads, sweet breads and savoury items, which has gone from strength to strength since it was bought by Meggy and Fabrice Delaunay (the Delaunays originate from Normandy in France, so you're assured everything made in the bakery / patisserie is authentically French) in July, 2018.
Chouquette was already popular under previous owner, Lara Keating, but has grown fast since as evidenced by the opening of the store, located in a beautiful heritage-listed building on the corner of Edward and Margaret Streets (in the former Madders Brothers Patisserie space).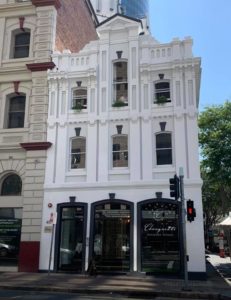 The new space is painted a crisp, clean white, with exposed brick and beams giving the café a warm and inviting feel. Of course, it's the pain aux raisins, eclairs, canelés, danishes and tarts, and the Delaunays' crunchy baguettes and loaves of sourdough under the row of hanging Edison light bulbs that bring the customers in.
The location is not only convenient for city workers on their lunch breaks, but also makes the most of the surrounding residential apartments by the river and the Botanic Gardens.
---