Thank you very mochi: When East meets West in the world of sweet treats.
Australians have long had a love for Asian food, but there's been a recent surge of Eastern influence particularly on the dessert scene. Replacing traditionally very sweet, rich, and dense dishes are the lighter, fluffier, and fresher flavours favoured across Asia. From baked cheese tarts to cheesecakes and bubble tea to bubble waffles, here are a few of the Asian trends you're likely to notice popping up all over.
Bubble Tea
Bubble tea—also known as boba tea—originated in Taiwan and has become extraordinarily popular all over the world, including Australia. Bubble tea falls into two categories–green, black and oolong teas without milk and milk-based teas. Either variety can be customised with tapioca balls ("boba"), popping pearls, fruit jellies, foam, ice and custard. You can also add flavourings in addition to a variety of toppings. The tea is served in tall cups with wide straws designed to accommodate additives such as the tapioca balls and jelly.
Where to get it: Yifang in Sydney's Cabramatta has a cult following.
Bubble Waffles
Bubble waffles, also known as egg waffles, are spherical egg-based waffles popular in Hong Kong and Macau. Made from an eggy leavened batter cooked between two plates of semi-spherical cells, they are usually served hot and eaten plain, although they may be served with fruit and cream fillings.
Where to get it: Brissy Bubble Waffle in Mount Gravatt is where it's at.
Mochi
Mochi is a Japanese dessert made from mochigome–a short-grain japonica glutinous rice and ingredients such as water, sugar and cornstarch. Traditional mochi consists of a sweet bean paste covered with mochi dough, resulting in a sweet, chewy treat. Over the years, mochi varieties have evolve to include mochi ice-cream (balls of green tea or mango ice-cream covered in mochi dough) and fruit and cream-filled mochi.
Where to get it: Mochi Moments in Melbourne.
Mochi Doughnuts
Mochi doughnuts have been tipped as the next big thing. At Sydney's Demochi, mochi dough is fashioned into a doughnut and fried, offering a thin, crisp bite that's deliciously light. Of course, these tasty morsels are glazed and topped with a variety of sweet additions, including sprinkles, chocolate, nuts and even Froot Loops!
Where to get it: Demochi in Sydney is killing the mochi doughnut game.
Japanese Baked Custard Tarts
The eastern spin on the western-style cheesecake, Japanese cheese tarts are incredible. Finding the perfect sweet-to-savoury ratio, these morsels come in a variety of flavours, including original, yuzu and strawberry. The secret to these babies is a blend of three different styles of cheese and a biscuit-like pastry that melts in your mouth.
Where to get it: Hokkaido Baked Cheese Tart has stores all over Australia
Taro Buns
Made from taro, a large root vegetable, Taro Buns are warm buns with a creamy, smooth taro custard filling. These delicate, sweet buns are made using a buttery sweet dough, and also come in loaves and cakes. This basic sweet dough recipe is incredible versatile, and can be eaten with sweet and savoury fillings including roast pork, cream cheese and fruit spreads.
Where to get it: Breadtop stores Australia-wide
Jiggly Cheesecakes
Japanese 'jiggly' cheesecakes have become a cultural phenomenon in recent years. The baking and cutting process is mesmerising, and videos of the wobbly wonders being prepared for sale have gone viral (just search 'jiggly cheesecake' on YouTube). Made with cream cheese, egg whites, powdered sugar and butter, these heavenly cakes are incredibly light and fluffy in comparison to dense New York-style baked cheesecakes. Heaven on a plate!
Where to get it: Uncle Tetsu's in Sydney and Melbourne
Matcha Anything
Matcha has exploded in popularity in the western world in recent years, bridging the cultural gap from tea to baked treats in what seems like minutes. Matcha made in the traditional Japanese style, whisked with water, is a full-bodied green tea. You don't need to look far to find bakeries selling matcha cakes, matcha lamingtons, matcha macarons and even matcha brownies.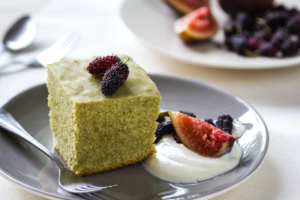 Where to get it: Little Matcha Girl in Como, Perth
---