'Tis the season to make a piggy of yourself! Without further ado, feast your sweet tooth on the best Christmas dessert for you according to your star sign.
Whether you believe in astrology or just cherry pick the bits that suit you (like winning the lottery this month or using being a Scorpio as an excuse to pretty much be a jerk – not that I'd know anything about that…), with the smorgasbord of desserts on the trestle table on Christmas day, we understand you might need some help deciding what to smash.
Disclaimer: The aforementioned Scorpio jerk writing this has no business or skills/qualifications in astrology, but is known to eat every dessert at Christmas and judge people based on the day they were born, so here we go!
ARIES (March 21 – April 20): Tiramisu
Not really traditional Christmas fare, but you probably have a Nonna who won't hear otherwise. Also, you're content with a dessert containing both caffeine and alcohol to fuel your desire to dominate everyone and everything – including the game of backyard cricket the under-10s in the family have going on.
TAURUS (April 21 – May 20): Month-old gingerbread house
You're an odd sort, aren't you? Everyone else is feasting on the rich, boozy and … fresh desserts, but for some reason you're drawn to the dry, slightly dusty gingerbread house your six-year-old niece constructed with her unwashed hands at the beginning of December. Maybe it's the sun-faded M&Ms dotting the path to the front door, or the squashed marshmallow shingles on the roof? Either way, you've got the whole thing to yourself.
GEMINI (May 21 – June 21): Plum Pudding
You have refined tastes, and can nibble a bit of rich plum pudding and tell everyone exactly how long it hung from a coat hanger in the wardrobe of your aunt's spare room before being boiled again to its current rich, moist, fruity form. Is that a hint of… dare I say… peach? Splendid!
You're a modern type and not one for sultanas in your dessert. So when you were scrolling Facebook and Tasty flicked a concoction of Maltesers held together with cake and shaped to look like a Christmas pudding your way, you were all in. Enjoy the diabetes you basic b***h.
LEO (July 23 – August 23): Trifle
This is what you look forward to every year. You don't know what Nana puts in her trifle (rumours have it it's illegal though), but you can smell the fumes coming off that rocket fuel from across the cul-de-sac. The perfect way to top off the VB bender you started at 10am.
VIRGO (August 24 – September 23): The last broken candy cane behind the Christmas tree
You drank too much and got the big sad, didn't you? Perhaps starting the day with Mimosas at 6am wasn't such a great idea. While everyone else was fawning over the beautiful and elaborate sweeties on offer, you crawled off to sob behind the tree, alone. And what is that you see? The last broken, kinda soft candy cane the kids haven't managed to get their hands on! Looks like your luck is changing, Virgo.
LIBRA (September 24 – October 23): Croquembouche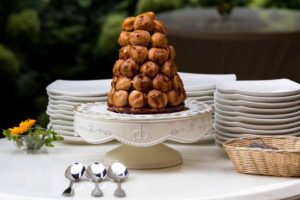 Well, well, well. You fancy little bugger. You don't cook often, but when you do you like to go big or go home and consider yourself quite the MasterChef. Yes, you have burns like tiger stripes up both arms from flinging boiling sugar around, but it was worth it for the beaming pride on your mum's face when you walked in with your creation. Pity you didn't clean the kitchen after yourself though.
SCORPIO (October 24 – November 22): Pavlova
The OG for the OG, right? No Aussie Christmas is complete without the Pavlova, and no family is complete without its wildest star sign. The pavlova is all yours, and has been since you marked your territory by picking off little bits of the meringue crust while it was waiting in the fridge. One question: Flake, or Peppermint Crisp?
SAGITTARIUS (November 23 – December 21): Fruit Mince Pies
Were you the kid who thought a packet of Sunbeam Sultanas was the ultimate lunchbox treat? It's no surprise then that you're over there inhaling the six-pack of fruit mince pies Uncle Dave grabbed at Woollies at the last minute.
CAPRICORN (December 22 – January 20): The fruit and cheese platter
Not a real sweet tooth, are you Capricorn? That's okay, because you know that the finest dessert comes from nature, and the platter of cherries, mangoes and lychees plus gooey triple cream brie and crackers pairs best with the Pinot Gris you just opened.
AQUARIUS (January 21 – February 18): Fruit Cake
Takes one to know one, am I right? Nah I'm just kidding around. You have traditional (and somewhat dry) tastes, and you're happy to take one for the team and let the others have the good desserts. You'll also remind them of your selflessness and how they owe you for the rest of the year, despite no one asking you to do it.
PISCES (February 19 – March 20): Brandied custard and eggnog
Are you on the liquid diet again Pisces? You're content to skip dessert on the surface, but when no one's looking you're drinking the brandied custard and the spiked eggnog in the kitchen like it's water and loving it.
---