Roberta Anson sells a lot of plain mince pies at Blackbutt Bakery, but with her drive, passion and creativity, it's safe to say there's nothing "plain" about anything you'll find in her display cabinet.
There aren't a lot of little Australian country bakeries you can run a Google search on, click on the 'News' category, and come up with hundreds of headlines from news outlets around the world.
And 10 years ago, Roberta probably wouldn't have imagined that by now she'd be the owner of a not only Queensland-famous, but also world-famous bakery – yet here she is, with so many industry accolades she's lost count, and a few little controversies along the way.
Roberta moved to Blackbutt in the South Burnett Region of Queensland from Brisbane's Northside to be close to and support a friend whose husband was dying from cancer – a testament to her caring nature – and subsequently bought the bakery, which was on the brink of bankruptcy at the time.
"Everyone was worried about what was going to happen to it," Roberta says.
"I had my own home but I mortgaged it to buy this so I could be close to my friend whose husband was dying of cancer, and that's how it all started."
With a 20-plus year career in child health she had to give up due to health issues, Roberta is the first to admit that when she bought the bakery, she felt in over her head.
"Even my daughter – I said, 'what have I done? I don't know anything about baking or businesses' and she just said 'Mum, it'll be alright. You love cooking and everyone loves your food'," she laughs.
"I've always been a person that's cooked. Even when I worked at the hospital, I'd be in the kitchen more than I'd be in the wards."
It was Roberta's love of food and cooking and above all, caring for people, that made the Blackbutt Bakery a success.
"The happiness that food gives people, no matter what it is – weddings, funerals – it's always something that uplifts," she says.
"I used to go to my friend's when I was a child, and we grew up around a lot of Italians, so I was always there with the mamas cooking up big pastas and gnocchi, and I'd be helping in the kitchen because I knew at the end of it, I'd be getting a big bowl of gnocchi to eat.
"It has always been about food for me I think."
Roberta celebrated the 10-year anniversary of owning the Blackbutt Bakery in May this year, and recalls having to learn how to make pastry on the fly in the early days.
"We had to learn how to make pastry and stuff from a friend at the university," she explains.
"So we're on the phone trying to learn how to make pies over the phone.
"We had to teach ourselves."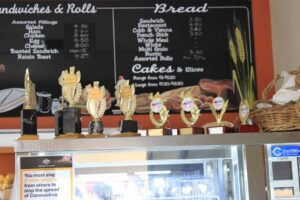 And without an electric oven, it was labour-intensive work doing all of this with no experience in a woodfired oven, because at the time there wasn't enough electricity to run an electric oven.
"It took years before we could get proper electricity into the bakehouse," Roberta says.
"I think I broke nearly every light every day with the big paddle getting the pies out of the oven. I used to have to put cakes in there too, and there's no temperature control.
"It's really full on. We've put in the hard yards here!"
And Roberta isn't kidding when she uses the words "hard yards". At almost 60 and no in the best of health, she can still do a 16-hour workday, take care of the beautiful flower pots she established on the main street, and then spend the rest of her waking hours (which are plenty, given she averages around three hours sleep a night) coming up with exciting new flavours for pies and sweets – and she has no intention of slowing down.
"As long as my arms keep working, I'll keep going," she says.
"It's been 10 years now and everyone said I'll get sick of it, but I still, every night think, 'what can I make tomorrow?'"
Regular customers are used to walking in and finding more than a surprise or two in the display. While they serve some traditional country bakery fare such as cream buns, doughnuts and apple turnovers, Roberta estimates 80 per cent of the sweets are products of her imagination turned into reality.
"I just make it up as I go," she says.
"I just go in and decide I'm going to make a Snickers slice or a Mars Bar slice… we make a lot of fudge slices."
One of the biggest drawcard sweets on offer at the Blackbutt Bakery – out of approximately 180 varieties – is a French vanilla slice made with a beesting topping, which actually made the papers.
"I haven't lost any of that drive to want to keep doing different things," Roberta says.
"If I was a bread maker, they wouldn't end up with normal bread, they'd end up with bread in every flavour known to man. To me, if it's boring I won't do it. It's got to be challenging. I just want to keep changing things!"
The pies at Blackbutt are no different, with an array of inventive flavours on offer, which over time have included a Bunnings sausage flavour, and the most controversial of all: the Big Mack Pie.
It was the latter than led to the little Blackbutt Bakery making international news when McDonalds contacted them for a possible copyright infringement.
"It went in every newspaper from England to America and it was a big thing," Roberta says.
"I thought, 'oh my God, we're going to get in trouble here.'
"But we wrote it as 'Big Mack', even in the pie awards – it won gold – and it's our signature pie now. Everyone travels up for the Big Mack one.
"When McDonalds rang up they were actually pretty good. They said, 'we've got someone who's got a little bit of a beef with you about one of your pies.' They did some investigating and sent it over to their law department, but the fact that we weren't promoting it as a McDonalds burger – we didn't use their sauce; we made our own – they said as long as we keep spelling it 'Mack', they're alright with it.
"It's all about how you promote it."
While they've won plenty of industry awards, Roberta was absolutely thrilled to recently be awarded Queensland's Best Pie by the Nova 106.9 radio station, which brought a plethora of customers in to try the pies.
"That was amazing," she says.
"It's the actual people eating them that voted, which is much better than the pie awards.
"The weekend after that I'd say every second person was a Nova listener.
"It was an absolute buzz, it really was."
Although it was a plain mince pie that won the competition, Roberta says there's nothing plain about them because they're full of seasonings and other things she has made up.
Having such a big variety of pies and sweets on rotation does have its downsides, however, with some customers getting upset after driving in only to find the product not there.
"People's reactions to all the different ones is really good," Roberta says.
"But some of them get really upset because we'll only run them for a week or two before moving onto the next one and some people will drive up thinking you're going to have them there all the time, and we haven't and they get a bit upset."
For the most part though, she says people love that they can walk in and find something different each time.
"People come in and it's the surprise that they love. They never know what they're going to get!"
Blackbutt Bakery has around eight staff members including pie maker Franka Mills, who has been there since the beginning, and Roberta's young protégé Hayden, 15, who has been learning the craft from her for two years now.
"I've been teaching him the sweets because I figure if I drop dead somewhere, someone needs to carry it on," Roberta says.
"He and I are forever making new things and messaging each other with ideas."
Throughout the COVID-19 pandemic, Roberta says they decided stick it out rather than closing, as many other businesses have been forced to do.
"I felt like crying – well actually, I did cry – because every time I hear that they're closing business and people can't survive, it is emotional," she says. "You get so upset because you think of all of these little mum and dad businesses that are just struggling and they've got no control; they can't do anything.
"Hopefully we're all going to come out the other side better for it. We have to look at the positives rather than the negatives."
For now, Roberta is thankful to have been able to continue to serve delicious, hearty food to customers throughout the tough months.
"No medicine in the world can amount to the feeling of people enjoying the pies and the sweets out here," she says.
---