Australian strawberry farmers are struggling to offload their produce, with COVID-19 lockdowns causing an estimated 50 per cent drop in demand as cafes and restaurants are forced to close. To help out our farmers, we've hit our archives to find these five strawberry recipes.
Get in there and order some delicious strawberries to create these masterpieces!
Anna Polyviou's matcha club cake is the dessert version of the club sandwich and makes a perfect addition to the afternoon tea tray (or a high tea!).
"I wanted to add a little green tea into my afternoon tea in honour of my many Asian fans around the world. This cake is playing on a club sandwich". – Anna Polyviou
What is a strawberry without fresh cream? This cake is surprisingly simple for a stunning result, and will look incredibly impressive in your display case.
A smooth, creamy panna cotta always goes down well for dessert, and these individual dessert cups make a great COVIDSafe dessert!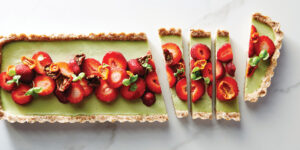 Fresh, fruity and with show-stopping good looks, Pana Chocolate's strawberry basil tart is the perfect combination of sweet and savoury. Dehydrated cherry tomatoes add a burst of sweetness with a savoury edge, while seasonal, juicy strawberries provide colour, sweetness and plenty of zing.
All you need is love, but donuts are a pretty good second! These adorable heart donuts are perfect for an anniversary, Valentine's Day or just because.
---