Sydney and Melbourne are considered to be the foodie epicentres of Australia, with industry professionals flocking for a slice of the action. However, Sydney-trained pastry chef Lea Chairesa found the perfect place to set up shop, making all things sweet and wonderful at  Mascavado in the overlooked city of churches.
From the outside looking in, the timing of Adelaide's newest patisserie Mascavado's opening couldn't have been worse, occurring just as the country went into lockdown in the face of the coronavirus pandemic. For Lea however, the decision to dive right in regardless paid off.
"I remember before I opened, I got the news that we weren't allowed to have dining in," Lea says.
"I was pretty much ready to open, and we all pretty much had our heads stuck to the phone looking for news to see what was happening next. It was a big call that I had to make, because basically all my people involved in the project were asking what I'm going to do, whether I want to delay it, or do I want to open and push through.
"I made the call to pretty much just keep going. I didn't want to delay it any more than I had to."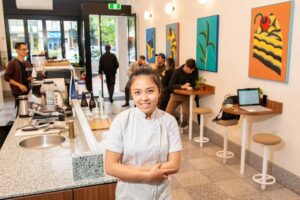 Fortunately, Mascavado's concept did not rely heavily on made-to-order, dine-in menu items like many cafes, so it was a simple adjustment to close off the dining area and open to take-away only customers. However, the "extended soft-opening" Lea had in mind due to the circumstances couldn't have been further from the reality.
"I had everything on display and thought I could adapt to that easily with coffee and everything to grab-and-go," Lea says.
"It was actually better than I expected week after week. It was really overwhelming if anything! There was a line out the door, with us having to remind everyone there was a – back then, four metres square I think – to spread out.
"Everything was sold out pretty much before midday every day, I guess more because no one else was open."
Mascavado is a café-patisserie with a strong focus on classic French-style products like croissants and danishes, but with Lea's own twist to give them unique character and flair.
"We also do cakes and tarts and all the sweet and wonderful things, Lea says.
"I have this little hexagonal cake that is chamomile, ricotta and honey – just things like that that I have my own little twist on. I have the classic brownies and everything, but I also have a blondie that I flavour with chai – all the wonderful spices you can find in chai.
"I have a classic carrot cake; again adding my own little touch using spelt flour and all the spices that are in it."
Lea hails from Jakarta, Indonesian originally, but moved to Sydney for high school. Although she grew up with a love for baking, it was doing year 10 work experience at the famous Black Star Pastry (before they were really famous) that firmly cemented it as a career choice.
"I realised enjoyed it, then I came back after I graduated, before I started uni," Lea says.
"I stuck with that for a little bit, then I worked at Koi Dessert Bar just before it had its grand opening. I learned a lot there – all the desserts, all the foams, snows and gels – that type of thing, then I worked at Cirrus Dining.
"It was a two-hatted restaurant when I was there. That was a cool, intense experience as well, working with a two-hat chef with the pressure and everything pumping!"
After gaining invaluable experience such iconic Sydney institutions, it may seem surprising that Lea eventually settled on Adelaide to carve her own niche in the patisserie industry.
"In Sydney and Melbourne, you can find whatever niche collaboration or combination of cafes and pastries and food and all you can think of. They're really big (Sydney and Melbourne) so I thought I'd branch out and see other places; other cities and I thought Adelaide was a gem – is a gem," she explains.
"I checked out Adelaide a few times and thought, 'it's actually great here!' You've got all these amazing wineries, all this amazing produce, amazing views and everything is just a step away because it isn't as big as Sydney or Melbourne.
"There are a lot of good qualities here in terms of produce and accessibility to the sea, the hills and everything here. I thought 'this is great. This is a great place to kind of settle for a little bit and try out my own little project'."
Lea found Adelaide to be a diamond in the rough, and it seems the feeling is mutual, with locals and food publications just as excited about the brand-new offering in their little city.
"They were like, 'oh finally something is happening again!' They were pretty excited, and it was lot of great feedback from everyone, which I was very grateful for."
For the space itself, Lea took over what used to be a Commonwealth Bank branch on Hutt Street, which presented its own challenges by way of fit out.
"It was a bank so they had a lot of regulations and safety measures as to how secure everything has to be, so there was a lot of concrete," Lea says.
"Where the safe was – that was hell to break down. I think it delayed us a week because they had to jackhammer the floor because it was all concrete.
"That was a lot of added cost, but it was worth it."
Now, the space is modern and filled with natural light thanks to the windowed frontage. Lea's crisp, clean branding lends itself well to the finished design, and she explains the meaning behind the geometric logo.
"Mascavado is a cup of sugar, so the branding and logo I have – a hexagon and a pentagon – are pretty much the sugar molecules, or the sugar molecules reimagined."
For those who like to indulge once in a while with their morning cup of coffee, Mascavado is waiting with its display cases stocked full of traditional viennoiseries – but always with Lea's own signature twist!
---