Our Spotlight this issue is on edible flowers. What's more beautiful than a garden in bloom, or a vase full of freshly cut flowers on the kitchen table? Not only do they brighten up any space; research has actually found that flowers can have a long-term positive effect on mood. As decoration, they can adorn the office, the kitchen and people (think corsages, hair pieces and bridal bouquets), but did you know there are lots of edible varieties of flowers that can add that extra wow factor to your food? 
Evidence of flowers being used in cooking and as garnishes can be found as far back as Ancient Greece, Rome and Egypt, with the first recorded mention of edible flowers in 140 B.C. In the Victorian era, candied violets were used to decorate desserts, and fresh flowers have long been used to decorate cakes – particularly wedding cakes.
In more recent times, bakers, pastry chefs and chocolatiers have really started to take a shine to using edible flowers in more of their creations, adding an extra hit of colour naturally, and giving products a "back to nature" vibe that can't be replicated with sugar and sprinkles.
Simone Jelley owns Pretty Produce, a niche, chemical-free artisan produce farm based in Canungra near Lamington National Park, and says there are many considerations taken into account when it comes to growing edible flowers and leaf garnishes.
"Much care is taken to find the best flavour profiles with interesting and unique combinations of flowers," Simone says.
"Is it gorgeous, unusual, beautiful, and vibrant? Is the overall product different, having so much more range and diversity to what's on offer anywhere else?
"Pretty Produce products offer exciting new and interesting flowers extensively researched and not previously offered in the marketplace to those wanting to use them for applications ranging from decorating cakes/baking goods, plating meals, dressing up grazing tables/cheeseboards, bar craft/cocktails – amongst other uses."
Simone says anyone in the food industry wanting to utilise fresh flowers should consider developing relationships with local growers.
"The fresher the produce and the less road miles; the longer the product's shelf life," she says.
"Flowers wilt when subjected to air, so when you are using fresh flowers you must keep them air locked in a chilled environment until the last minute.
"Dried edible flowers are a good option from a grower who dries fresh, optimum quality flowers. These have a longer shelf life."
According to Simone, winter seasonal flowers are considered the best, and flowers that are soft, herbaceous and mild on the palate. There are many trends that include pressing flowers or dismantling them to decorate cookies, slices, brownies, pies, chocolate, lollies, patisserie or cakes too. The main flowers used for this purpose are violas, cornflowers, daisies, lavender, phlox, borage, calendula and fennel pollen.
As for why you should consider adding flowers to your repertoire, Simone says they give customers a "perception of a homemade, artisan creation".
"There is also a therapeutic application by accident or design. There is a natural-world integration with our modern living, which enchants us and reminds us of a distant era.
"There is the direct inclusion of the romance of the garden or the meadow and I believe that it is very evocative and wondrous to us all."
Here are a few popular varieties and how they can be used in food:
Violas and Pansies
Violas and pansies are one of the most popular edible flower varieties, known for their delicate flavour and perfume, as well as their vibrant colours and sweet 'faces'.
Ideally, they should be picked for use when they have just opened, and can be placed in cold water to help them swell before using to decorate cakes or to scatter in a salad. They can also be dried, pressed, or crystallised by brushing with egg white and sprinkling caster sugar before leaving to dry.
Daisies
The pretty daisy, although often considered a weed, evokes a feeling of summer. We're used to picking them, making chains from them, and adding them to wildflower posies, but did you know they're edible? They can be added to salads, used to decorate cakes and pastries, and if you find the full flower too pungent, the petals can be used – like natures sprinkles!
Nasturtiums
Nasturtiums are one flower you might be used to seeing in salads. Not just an eye-catching addition the garden (also a climber if you're looking for some height!), the entire winding, trailing part of the plant that is above ground is edible. And with their peppery aroma, the bright blooms, which range from yellow, to orange to a bright red are a colourful addition to make any dish pop. BONUS: the buds can be pickled and used like capers!
Roses
Wake up and eat the roses! Okay, that's not the actual saying and Ethel next door might not be thrilled if you take a bit of her prized Madame Anisette, but you can eat roses! You're probably familiar with using rosewater and essence to make Turkish delight, but rose petals – both fresh and dried – can be used to enhance many desserts.
Lavender
Lavender is an extremely versatile flower/herb for culinary purposes. While the lavender flowers and leaves can be used fresh, the buds and stems can be used dried. Its flavour and aroma is very distinctive and can be very strong (it's related to mint and rosemary, so this is unsurprising), but used in the right amounts, it can create a taste sensation – particularly when used in sweets. As an added bonus, lavender is a popular sleep aid!
Calendula
Calendula has been referred to unflatteringly as "poor man's saffron", which is really quite unfair for such a vibrant and useful flower. It is said to taste like saffron when sautéed with olive oil, and have a mildly sweet and spicy flavour profile. Petals can be sprinkled on soups, pasta, rice dishes, or baked sweets.
Hibiscus/Rosella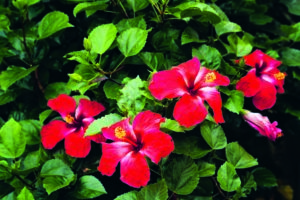 Nothing screams "tropical" like the sight of a hibiscus flower in full bloom, so the fact that they have many applications in food means that you can serve up a slice of the tropics to your customers, wherever you are. The hibiscus can be used to add colour, flavour and aroma to many desserts, as well as being popular in teas and cocktails.
The rosella, a part of the hibiscus family, is commonly used to make the quintessentially Aussie rosella jam.
---