There's no denying biting into a freshly made pastry or crunching through the crust of made-that-day sourdough can be filed under one of the greater joys in life. These days an increasing number of bakeries are taking steps to up the ante and have also added alcoholic beverages to their menus, providing a bevy of enjoyment. Now there really is a reason to linger for a bit longer at licenced bakeries.
Baking Business chats to some bakeries around the nation that are regularly serving up a tipple to find out the pros and cons that comes with a wine list.
Bread in Common (WA)
With a range of hand-shaped, preservative-free breads baked daily using organic flour, salt, spices and fruit lining the shelves alongside housemade ferments, pickles and preserves, it's little wonder Bread in Common has garnered itself a name as a foodie destination.
Located in Fremantle's West End, Bread in Common's entire baked range is made onsite with the assistance of Hansel and Gretel – the hand built wood-fired bread ovens that are jokingly referred to as the heart and souls of the bakery.
Describing each new development in the business as a natural progression beginning with a restaurant menu designed to build on the bakery items, part-owner Scott Brannigan said the addition of alcohol was another natural step, and one that had been built into the business plan from the beginning.
"When we started Bread in Common the main backbone of it was the bakery, so it was bread. Then we built the restaurant around the bread so it became a sharing restaurant with bread in the middle and restaurant food. And then when you're sitting down to a meal with your folks you might have a glass of wine so that completed the package," Scott says.
"We've recently started a distillery, which is very small and all handcrafted, but we're making gin and limoncello from our old bread. We sell that at the venue as well and it just adds to the experience."
A large part of Bread in Common's ethos is a strong focus on serving up locally produced goods, which also extends to the wine list too. As a result predominantly West Australian wines are stocked, all of which pair nicely with the wood-fired bread.
"I think it just completes the whole relaxed atmosphere and changes it a little bit from where you see bread being "café" to "restaurant"," Scott says.
Pairing recommendation: A VPA with a wood-fired sourdough and butter.
Paddington Social (Qld)
Housed in an iconic Queenslander in the inner city Brisbane suburb of Paddington, Paddington Social provides a truly unique dining experience.
Part café / bakery, part Thai restaurant, all parts delicious, between its walls you will find breakfast and lunch being dished up from menus created by Tyler Sargent served alongside cakes and pastries made onsite by Gibb Mookachonpan, while at dinnertime a pop up Thai kitchen serves up creative dishes put together by Lek Senee. It's an unusual mix, but one that works if Paddington Social's ongoing popularity is anything to go by.
Describing the bakery side of the business as small batch and quality-focused, Gibb said everything is made in-house including the buttery flakey croissants that have achieved cult status, and the whole production is manned by a single person.
So why was alcohol added to the menu?
"The main reason for us to get the liquor licence was for the lunch and dinner service," Gibb says, adding it has helped to be able to offer a wider range of beverage options to customers.
Although the cost of the licence itself as well as the cost of employing skilled workers to ensure Paddington Social complies with regulations at all times hasn't been easy, overall Gibb says being able to serve alcohol has been a boon to the business.
Pairing recommendation: Balter Lager served alongside a truffle chicken and mushroom pie.
Glenorie Bakery (NSW)
Glenorie Bakery, tucked away in the Hills Shire north-west of Sydney, is as well-known for its achievements – including creating Australia's largest cupcake, which weighed in at a whopping 400kg – as it is for its goal of giving each consumer 'Australia's greatest bakery experience'.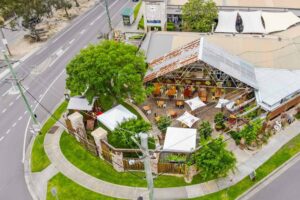 A glance at the menu shows a wide variety of baked goods from éclairs to cronuts, however it is meat pies that Glenorie Bakery is renowned for. Which is lucky, considering the bakery also boasts a well-stocked bar with beer on tap that pairs well with flakey pastry.
Owner Robert Pirina says he came back on board the family business in 2005 after his father asked if he'd like to run the shop at Glenorie. The former landscaper and horticulturist jumped at the chance, saying bread is in his blood. The result was the rapid expansion of the business, and the development of a bakery that is anything but ordinary.
"I am a big believer in giving people an experience they won't forget," Robert says.
"We will continue to be trendsetters and pioneers in the industry, pushing boundaries whether it be with cutting edge technology or innovative new ideas."
Pairing recommendation: A pint of Fat Yak original Pale Ale with the Invictus pie.
The Hamptons Bakery (Vic)
Focusing on a simple approach to hospitality – great food, good coffee and excellent service – Melbourne-based The Hamptons Bakery most definitely has the desires of their clientele worked out.
Each day the bakery/café serves up a range of bread, pastries and cakes all baked onsite and served in addition to a full breakfast and lunch menu. The addition of a liquor licence has added yet another dimension to the business, and one that has proved fruitful especially during the strict lockdown COVID-19 restrictions placed on Victoria.
The Hamptons Bakery managing director Simon Winfield says when it came to the original business plan he and his business partners, who already have a number of cafes under their belts, decided bread was such a staple part of people's everyday lives that they wanted to create an artisanal bakery with an attached café for their fifth business undertaking.
"We have a 100-seat café attached to it and everything is baked onsite and it's all handmade," he says.
When it comes to the in-house alcohol range, it has actually grown in recent months under COVID-19 thanks to a change in liquor licensing that means Melbourne-based restaurants and cafes can now sell takeaway alcohol.
"We've increased our range by probably about 50. When we were trading we had a range of four or five wines and a few beers and that was it. Now we have a range of 50 wines and five or six beers," Simon says, adding the larger menu has helped to increase their business footprint through sales.
"The license has been a boon for the business during COVID-19, but to be honest the fact that it's a café and a bakery means there's a bit of a pool when it comes to alcohol licenses. Certainly in Melbourne if you want to go to a café you're, generally speaking, going for casual dining, for coffee and to eat. And generally speaking people aren't looking for alcohol when they're thinking about dining like that.
"But that doesn't mean it doesn't happen. I think if you're going to have a champagne breakfast then you might have something to drink that's a bit elegant or something with effervescence in it, while enjoying a croissant with jam."
Pairing recommendation: Prosecco with a housemade croissant.
Ross Bakery (Tas)
Located halfway between Hobart and Launceston in the historic town of Ross, Ross Bakery still fires up the original wood-fired semi-scotch oven – dating back to 1860 and with the capacity to bake 300 bread loaves at a time – each day.
Pies, pastries, buns and cakes are baked fresh each day as the oven temperature gradually falls from its initial temperature of 700 degrees Fahrenheit, and are eagerly snapped up by day-tripping tourists and locals alike.
When owners Kirsty Lloyd-Bostock and Carl Crosby took over ownership of Ross Bakery it already had an alcohol licence in place, meaning regular patrons were well-versed in the pleasure of grabbing a wine or beer and heading to the deck for a bit of downtime in the sun.
Carl says the bakery's location has turned it into something of a tourist destination, and so their customers normally choose to either sit down to enjoy a full meal and a drink, or to run in and stock up on bread for the forthcoming car trip.
"If it's a nice sunny day and they're out on our patio it's lovely to have a beer or a wine," Carl says.
"We have a licence that only allows us Tasmanian products so we sell Boags, Cascade and a variety of different Tasmanian wines. I would say the Boags is the most popular."
Pairing recommendation: Boags beer with a Cornish pastie.
Stone Hut Bakery (SA)
Located on the Southern Flinders Ranges, and popular with campers and caravanners as a rest stop, Stone Hut is a quiet township boasting a not-so-secret weapon – the famous Old Stone Hut Bakery.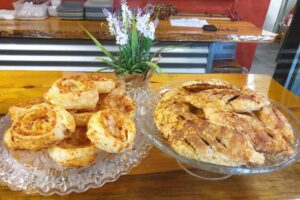 Opened in 1997 at Wirrabara, bakery owners Dennis and Margaret Wheatley transferred the business to their property at Stone Hut in 2005. Since then the duo have been baking daily with a firm focus on producing cakes and slices like "Grandma would make" that sit alongside traditional bread and not-so-traditional pies.
Crocodile pies used to be a popular lunchtime choice, although difficulty in sourcing meat resulted in its eventual removal from the menu. However, you can still find Saeid's camel pie, made using a spicy Iranian recipe, in the pie warmer most days along with kangaroo, venison and rabbit versions.
You will also find local produce from the region on offer throughout Stone Hut Bakery, with olive oils, olives, honeys, jams and relishes, chillies, and soap all lining the bakery's shelves. And with Southern Flinders now a recognised wine region, the addition of a liquor licence just made sense to the Wheatleys.
Now travellers can enjoy a glass of wine from a nearby vineyard while eating their meal in the grape vine-covered outdoor eating area, before wandering over to the petting zoo and walk-in aviary.
Pairing recommendation: A glass of Bartagunyah Estate Cabernet Sauvignon with Saeid's camel pie.
---