One thing's for sure, burgers are just not right without the perfect bun. In response to the growing burger market, Brasserie Bread – renowned for their award-winning sourdough bread – decided to pursue a new and interesting direction. Inspired by the pillowy-soft milk bread from Hokkaido, Japan, the bakers studied a slightly different way bread is made over there. Breaducation Manager Anthony Silvio demonstrates this fascinating method.
Anthony has recently finished his stint at Brasserie Bread and moved into the marvellous world of dairy with Vannella Cheese located in Marrickville, Sydney, where master cheesemaker Vito Minoia uses single origin Australian milk to hand-craft luscious fresh stretched curd delights. For this recipe, Anthony uses their remarkable butter product made from whey (the by-product of cheese making) resulting in a wonderfully cultured, mature flavour profile.
Tang Zhong:
100g Milk
50g Spitfire Flour
Final dough:
210g Milk, cold
70g Cream, cold
120g Organic Eggs
80g Raw Honey
30g Fresh Yeast (or 15g dried yeast and 15g water)
750g Spitfire Flour (or another very high protein flour)
10g River Salt
150g Tang Zhong
80g Vannella Cheese Whey Butter, room temp
*Plus some beaten whole egg to brush onto buns
First prepare the Tang Zhong: Heat the milk in a small saucepan, then add the flour and stir to combine. Place back on the heat, continue stirring until thickened (this should occur around 68-70°C). Allow the Tang Zhong to cool to room temperature then store in refrigerator until ready to make final dough.
In a stand mixer with the dough hook attachment, combine all the ingredients except for the whey butter on slow speed 2 mins then increase the speed to fast and mix until the dough is developed by performing a window pane test (it's important your wet ingredients are cold as the dough takes some time to develop so you want to avoid overheating in the mixer).
Once your dough is developed, add the room temperature whey butter in and continue mixing until all the butter is well incorporated, the dough is fully developed, shiny, and feels elastic.
Shape into a tight ball and place into a lightly greased bowl. Cover and ferment for 2 hours.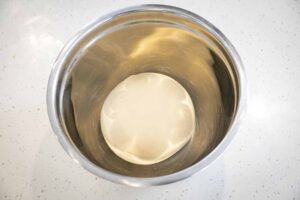 Divide the dough into 100g pieces, de-gas any large bubbles and shape into tight rounds.
Place the rounds on lined baking trays and proof in a warm, humid environment for 1 hour 45 minutes.
Preheat your oven to 185°C fan-forced. *When the buns are fully proofed, carefully brush them with egg wash then bake for 14 minutes until golden, shiny brown, giving the oven a good burst of steam for the first few seconds of baking.
Allow the baked buns to cool to room temperature before storing in a sealed bag. If stored properly, the buns will develop in texture and flavour the day after baking.
---