When it comes to authentic German soft pretzels, the bakers at Brisbane's King of Cakes know their dough. There's no travel on the cards right now, but the taste and aroma of these knots will transport you to the streets of Munich.
German soft pretzels with King of Cakes
Makes 6
400 g white flour
8 g salt
8 g milk powder
15 g butter
12 g fresh yeast
12 g barley malt syrup
200 ml cold water
For baking soda solution:
80 g baking soda
1620 ml water
Let the butter soften at room temperature.
Add all the ingredients to the bowl of your stand mixer. Mix approximately 7 mins at slow speed and 5 mins at high speed until the dough is smooth and elastic.
Take the dough out onto a floured surface. With a knife or pizza cutter, divide the dough into 100-gram rolls.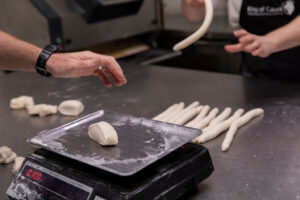 To shape the dough, take a piece and roll it into a 20-inch rope. Hold the ends and twist one over the other. Bring the twisted ends up to the middle of the rope and press them down to form a pretzel shape.
Cover the shaped pretzels lightly with a towel and allow to rest for 1 hour.
For the soda solution, bring the baking soda and water to boil in a large pot. Preheat the oven to 200 degrees Celsius.
Dip the proved pretzels into the soda solution for 20-30 seconds one at a time. Arrange the pretzels on the prepared baking sheet and sprinkle them with salt.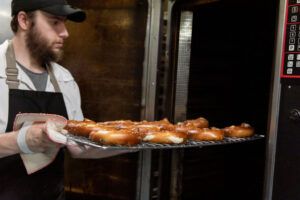 Bake for 10-15 mins or until golden brown.
Serve the warm pretzels with some butter or honey mustard. Best with a glass of German beer!
---