Tucked away in the Melbourne suburb of Spotswood lies a vibrant Aussie bakery with an American twist. Throw in the Italian and Greek owners and you've got an eclectic mix of flavours, textures and colours. Australian Baking Business catches up with the team behind Candied Bakery to discuss pretzel brownies, potato focaccia and apple pie shakes.
When branching out beyond the staples of sliced white bread and meat pies, most bakers look to Europe for inspiration. Nonetheless, having "been there, seen that", the husband and wife team behind Candied Bakery set off for the US – and have never looked back.
Encouraged by burgeoning American themes in Australia's food industry, owner-operators Orlando Artavilla and Toula Ploumidis travelled to San Francisco, California and New York to bring something original to Spotswood, an inner-city suburb of Melbourne with only one other organic bakery.
"Food trends from the US are booming here in Australia, particularly in Melbourne. Just look at the popularity of food trucks and burgers. Of course, Central American themes are also mainstreaming as Mexican food stores pop up," Orlando says.
"The food community has known about the amazing sourdough scene in San Francisco for a while now, so it just felt right to start incorporating American themes into a bakery."
As a love of desserts is notorious with North America, it should come as no surprise a big portion of Candied Bakery's menu is sweet. Along with bakery staples including lamingtons and fruit buns, the exciting product selection also includes jelly and custard doughnuts, pretzel and brown sugar-crusted brownies and indulgent chocolate marshmallow cookies.
Nonetheless, the gastronomic delight doesn't stop at the display cabinet. The recipes themselves incorporate their own originality and flair.
"We make our lamingtons from scratch. It's a beautiful recipe that comes out super soft. Instead of cutting them in half, we actually pump in the jam just like American bakers do with jelly doughnuts. We then cover them in high-quality chocolate and desiccated coconut," Orlando says.
"We know a lot of bakeries are now presenting their lamingtons with shredded coconut, however the desiccated coconut really gives them a sense of nostalgia for an old-fashioned Aussie bakery. There is something genuine about them and they remind me of the lamingtons I ate growing up on the banks of the Murray River in South Australia."
There are also some distinctly European products on the menu. In the patisserie section, it's hard to look beyond the Nutella or blue-vein cheese croissants, which are made to order. On the bread front – which is, for now, purely organic sourdough – Orlando's Italian background is obvious.
Made in-house, Candied Bakery's bread selection boasts white, wholemeal, barley and oat, and rye varieties, with Toula's Greek heritage influencing the inclusion of a kalamata black olive sourdough loaf.
"The simple white sourdough is one of our best sellers. With a blend of stoneground and white flour, the first four-to-five hour rise is followed by a second rise before bake, which takes up to 15 hours," Orlando says.
There is also a highly popular focaccia slab on weekends. With a potato base, the focaccia has a gnocchi-like consistency, while the flavour is kicked-off with celery salt and Korean chilli sauce.
However, it's the bakery's more unconventional offerings that provide the biggest talking point. Inspired by New York's famous Momofuku Milk Bar, Candied Bakery has a soft-serve machine complete with rotating flavours. And what better way to make the most of a soft-serve machine than to create the bakery's pièce de résistance: the all-American apple-pie shake.
"We originally saw this in a San Francisco pie shop and we had to give it a go, simply because it was such a fun idea. We literally take some soft-serve ice cream, an apple pie, a bit of cinnamon and shake it up in a blender," Orlando says.
"The soft-serve gives it a beautiful creaminess and we make sure all our staff leave a few crunchy bits so customers still identify it with an apple pie. It's a very interesting product!"
For Orlando and Toula, the soft-serve also helps bring people in the door in the warmer months, when bakeries traditionally see a drop in business.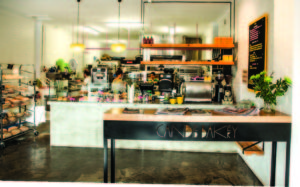 "A lot of people come in specifically for the ice cream in summer. It's been good for us, particularly as we opened our doors for the first time in summer, which is probably not the best time to launch a bakery," Orlando says.
"I'm constantly tweeting the soft-serve flavours on Twitter, which brings a really steady steam of people into the shop. In fact, we even have a lady come in from Tullamarine especially for the ice cream. She's like our soft-serve groupie!"
In fact, social media has been of great benefit to the business, not only for marketing purposes, but also for keeping up-to-date with global baking trends.
"Whether we are talking with MoVida Bakery in the Melbourne CBD or Dan Lepard over in the UK, Twitter is great for keeping in touch with innovators. You can connect with anyone around the world, you can see inside their bakeries and you can also spread the word about your own business," he says.
Most often, Orlando tweets images of his treats as they arrive fresh out of the oven. However in March this year, social media provided an excellent platform to share some very exciting news.
"Our hot cross buns were voted best in the country by Epicure. They were described as 'handsome' by one taster and as having 'lovely freshness and appealing fruit flavours' by another. There is definitely a level of complexity to the fruit buns, because the flavours are quite robust, while the texture is very light," Orlando says.
"I've never seen customers so obsessed with hot cross buns before! We even had to bring in Toula's mother to help glaze more than 1000 buns over Easter. She was almost falling asleep on the bench trying to get them all done in time."
The space, which was previously a barbershop, is also a draw card for the bakery. Going for more than just an industrial aesthetic, the contemporary interior gives the unmistakable feel of a workspace. From the front door to the back wall, every bench top and appliance is out in the open.
For Orlando, the look enables customers to feel included in the baking process.
"People love watching. A lot of suburban bakeries have that little door in the back of the bakery and you can't see anything. We want people to be involved, to see what's going on and get the sensory overload of the kitchen," Orlando says.
The space also lends itself to splashes of colour realised in a hot pink railing, a black and yellow menu board and the unmissable neon sign. It's a far cry from the couple's previous Brunswick East business, Sugardough Panificio and Patisserie, which boasted a kitschy, homely interior.
"Sugardough suited the Brunswick community at the time and it was a very good business. However, in the last few years Toula and I have grown. Our ideas are more modern and our products have evolved as a result," Orlando says.
"We liked Sugardough, but we absolutely love what we've done with Candied!"
Ollies Fruit Bun
Ingredients:
• 500g organic white
• 250g sourdough starter
• 10g fresh yeast
• 50g caster sugar
• 200ml orange juice
• 100ml lukewarm milk
• 300g dried fruit
• 2 free range eggs
• 1 tsp cinnamon
• 200g butter
Method:
• Mix all ingredients, minus the butter, until the mixture comes together;
• Slowly add butter and mix on second speed until the mixture appears clear;
• Let the mixture ferment for three hours;
• Scale the mixture at 90g;
• Egg wash the buns and sprinkle with sugar; and
• Bake at around 200°C for approximately 15 minutes.
---